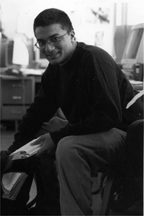 Soummya ("show-moe") Datta has a B.S. and M.S. degree in mechanical engineering from University of California, Berkeley. He also hold an M.B.A. from the Anderson School of Management at UCLA where he graduated with honors. Soummya was thePhotography Editor at The Daily Californian. Soummya published well over 300 photographs at The Daily Californian while studying at the university. Soummya also has photographs published in major magazines including Newsweek and Time Magazine. Soummya's photogrpahy interests has led to neumours model shoots, events, book openings as well as weddings for for family and friends.
During graduate school at UC Berkeley, Soummya helped develop and exoskeleton named BLEEX and is proudly pictured in the Guinness Book of World records showing the "World's Strongest Exoskeleton." During his studies at the Anderson School of Management Soummya helped a New Zealand company enter the US market in electrical engineering and software services on super yachts and was given the GAP (Global Access Program) Fellow award. After graduation, Soummya worked on the A160 helicopter and contributed to the design of both the main and tail drivelines of the unmanned helicopter, which currently holds the world record for flight time. Soummya holds one invention disclosure with the Boeing company for an innovative gearbox breather system. After his work on the A160, Soummya worked on numerous space mechanisms for Boeing and Northrop Grumman and aided in innovative ways to provide power and load transfer between a satellite bus and payload. For Northrop Grumman, Soummya also served as a competency manager for a Systems Integration and Test Team, where he supervised a team of test engineers and technicians working on space deployable mechanisms.
Mr. Datta currently works for the iRobot Corporation. Soummya started in 2010 for the company as a lead mechanical engineer on the Small Unmanned Ground Vehicle (SUGV) he has helped with redesign activity on the neck and manipulator for the SUGV. More recently he has served as the lead mechanical engineer for the full SUGV system, where he has helped with release and redesign activity for the SUGV, along with, resource planning, proposal activity and technical reviews. Currently Soummya is a principal mechanical engineer and the competency manager for the Manipulation group in the San Luis Obispo office. Soummya holds an active secret clearance with the DoD and an SSBI with the US government.
Soummya really enjoys walking the beaches on the coast of california. On his spare time he also enjoys learning how to golf, surf and hike. He can often be found working on his projects in the garage or taking pictures on a new adventure.
CONTACT: Soummya@Soummya.com or Soummya@gmail.com. Phone: (Three One Zero) Seven Zero One - Two Nine Eight One